Myself, and our incredible team of volunteers, are watching the events unfold in and around Ukraine. Our hearts collectively break and we feel so helpless. Our team is used to being able to spring into action in moments of crisis and in this crisis, we can only watch from afar.
Each day there are new stories coming out about refugees leaving with their pets and amazing communities relaxing their border requirement for pets entering their countries. This is incredible news.
Each day there are also more heartbreaking stories about guardians choosing to stay behind because they could not take their pets with them, and of the people who run organizations and rescues choosing to stay with their animals because, as Andrea Cisternino put it, they would "rather die" than leave them behind.
We know the importance of pets. It's why we exist. We also firmly believe our community is global. We cannot and will not look away, and we will do our part, no matter how small, to help.
Our team had been working on a new #BEKIND campaign complete with AFB swag for sale to support raising money for our operations. We are of course, 100% volunteer operated and non-funded. The escalation of the war in Ukraine only amplified these efforts. Determined to help, we launched our Be Kind hoodie and AFB swag in a matter of two days – brand new ecommerce site included.
More so than ever, we can all benefit from kindness – receiving it, and giving it.
Love and light to all,
Nicole & AJ Frey, Founders
Do You Know a Ukrainian Refugee in Canada Needing Help For Their Pet(s)?
As circumstances evolve we are learning of Ukrainian refugees arriving in Canada with the pet(s) in tow.  We are so thankful for the families loving their furry family members enough to bring them with them!
We are partnering with pet stores and pet food suppliers, and have set aside part of our donations from our Ukraine Fund to help assist pets of refugees.  If you or someone you know needs help providing for their pet(s) please email nicole@animalfoodbank.org
We try to provide ample ways for our community members to help.  And ways that don't require a financial donation! Read on to find out more.
Donate directly to organizations helping pets in and of Ukraine.
Each day we gain a bit more clarity of what organizations are boots on the ground in Ukraine and can provide help to pets and rescue/shelter animals left behind.  We will update this page as organizations that can help are identified:
Breaking The Chains-  Tom and Steve (of Breaking the Chains documentaries series), are on the ground in Ukraine with fuel, food, medicine and supplies for animals and humans.  Donations can be made directly to dogrescue@toms-n.co.uk through Paypal.  https://www.facebook.com/FacesOfHopeDocumentaries
Planting Peace:  Aaron Jackson was so moved by the situation in and around Ukraine he flew there from the US to help.  He is boots on the ground, putting up families in hotels and setting up feeding stations for pets that were fortunate enough to come along with their families.  You can donate here http://www.plantingpeace.org/

International Animal Protection League: Andrea Cisternino and his wife Vlada Shalutko, after denouncing the killings of Ukrainian strays that began in 2009 and continue today, started their rescue to save animals in Ukraine and around the world. The Foundation's projects are many and include the completion of the construction of a shelter in Ukraine to save as many strays as possible . It has expanded becoming a sort of oasis for animals also of other species besides stray dogs and cats.  http://www.rifugioitaliakj2.org/donazioni/

Shelter Friend: Helping sick and injured stray animals in Dneproperovsk city,Ukraine.  Shelter friend has 400 dogs and 150 cats
PAYPAL: shelter.friend.ukraine@gmail.com
"Friend" is a non-profitable charity organization and rehabilitation center for the homeless animals in Dnepr City – Ukraine. http://www.dryg.org.ua/
UAnimals: UAnimals is collecting donations to support animal shelters left with dwindling food supplies. So far, they have sent assistance to at least 14 shelters across the country. UAnimals also is working to help animals at zoos and that belong to circuses. Donate at https://www.patreon.com/uanimals.
Happy Paw: This Kyiv-based nonprofit also supports shelter animals throughout Ukraine. Donate at https://happypaw.ua/en/contribution.
Sirius: This shelter focuses on caring for animals in Kyiv and nearby suburbs. "We are not going to run! We must believe in our country and our defenders!" Sirius wrote in a recent Instagram post. You can donate at https://dogcat.com.ua/en/.  PayPal: kateryna.vs14@gmail.com
Casa lui Patrocle: Volunteers for the Romanian nonprofit are at the border to make sure that families entering the country don't have to leave their pets behind, the Dodo.com reported. Volunteers are helping to find housing, shelter and veterinary assistance for animals in need of help — regardless of species. You can donate at https://casaluipatrocle.ro/donatie-casa-lui-patrocle.
Shelter Ugolyok. Largest shelter in Ukraine for rescued farm animals  .PayPal: pawsofhelp@outlook.com.  There instagram account can be found here.
Kherson. Oleshka Shelter (507 dogs and 94 cats) and Shans Herson (193 dogs) Both are run under the same facebook page.  PayPal: dayanarybchenko@gmail.com
Donetsk. Shelter has 800 dogs and volunteers taking care of stray dogs in the area.  PayPal: vv_olga@mail.ru.  https://www.facebook.com/pif.dn.ua
Kiev. Спинальник Лёпа и КОмпания. Shelter with more than 100 cats and 25 dogs.  PayPal: taksa007@yandex.ru. https://www.facebook.com/SpinalnikLepaIKOmpania/
Gostomel Animal Rescue and Farm Sanctuary : he welcomes animals for income.
https://www.patreon.com/gostomelshelter
Domazhyr Bear Sanctuary – Four Paws-backed shelter with 29 bears rescued from zoos and circuses
https://www.bearsanctuary-domazhyr.org/ways-to-give
Centrum Adopcyjne "Ada" – A non-profit located on the Poland/Ukraine border, they are entering Ukraine to rescue and recover pets left behind.  Check out the amazing work they are doing here. 
Donate through Paypal – https://www.paypal.com/donate/?cmd=_s-xclick&hosted_button_id=H64WXV42P6D7J&source=url&fbclid=IwAR3MoKiQW3CMr-06AiFTEY6NtkxHtBwSs2ymaC_6eNp1mzepcZDyZHzNm0g
Donate a meal to a dog in Ukraine
We've partnered with PawSwap to create a Points For Pups initiative for 2022.  This program allows PawSwap app users to donate meals to dogs in need by redeeming their points.  Free to download, free to register, every new user gets 25 points.  You can redeem these points to feed a dog in need.  In response to the Ukraine crisis, PawSwap is also donating a second meal to a Ukraine dog in need for each meal donated by it's members in March.  
Donating more points is easy too!  Just visit any dog-friendly location on the app and collect 25 points.  Don't see your favorite dog-friendly location?  No problem – contact them to suggest the business – it's free!
The Animal Food Bank has been working on a #BEKIND campaign – very much expedited in order for us to help provide financial support to pets of Ukraine. 10% of the sale price for every hoodie sold, and an additional 10% of all sales of AFB merchandise during March will be donated to the AFB Ukraine Fund to be disbursed to the various organizations above. Spread the message that kindness matters and help a pet in need (both locally and in Ukraine as funds raised will be shared between regular AFB operations and our Ukraine Fund)
The Animal Food Bank is committed to education, awareness and collaboration.  We also very strong believe in the #powerofone.  One chance meeting with a homeless man and his dog started AFB.  One volunteer made us a team.  One delivery changes the life of a pet (and their human) in need.  One meal is the difference between hunger or not today.  No act is too small.  Never underestimate the power of one action.  If you can't donate (or even if you can), please always share to help educate and raise awareness to the need for the support of pets in crisis.
The Animal Food Bank is working closely with OhMyDog! to share news daily about what we learn and what we know as events unfold for pets in and around Ukraine.   Stay up to date and share!
Donate to AFB Ukraine Fund
The Animal Food Bank has set up a separate bank account for holding, and disbursing funds to organizations helping pets in and around Ukraine. We will provide weekly updates on our facebook page as to the donations in and out of this fund. If you do not wish to donate directly to an organization listed above, or feel more comfortable donating through us so that we can deal with the logistics of help, you can donate to us here. Please note "Ukraine" in the comments of the donation so we know where it should go.
Edit: the comments section is not working.
Please email Nicole@animalfoodbank.org
Subject: Supporting Ukraine
Donations and Transfers Made
We have raised an incredible $51,689.35 to date (04.23.22).  Less Paypal fees of we have a donatable amount $50,922.93.  
As of this morning, we have donated $43,573.10 leaving $7,349.86  Thank you so much to our amazing community and supporters.
Donations made to date:
03.02.22 – $1,500 USD sent to Planting Peace to assist Aaron, it's Founder, who travelled from the US to the Poland/Ukraine border, to house refugees/pets and provide pet food/supplies and set up feeding station(s) at the intake centres.  
03.02.22 – $1,000 USD sent to Tom of Breaking The Chains Documentaries.   A British ex-soldier, he has been a tireless advocate for dogs. Watching the events unfold, he was compelled to help. He has such a unique, and fitting, skillset with not only dogs and rescue, but warfare and combat. He and his trusted colleague Steve are going to Ukraine to bring much needed food, supplies and medicine for the animals, and their humans. 
03.03.22 – $500 Euro sent to Andrea Cisternino's rescue – International Animal Protection League.  I was in contact with his friend Anna today who let us know that at the moment no direct support can be sent (ie food, volunteers) as the shelter is cut off.  But, the shelter is not damaged and the animals are doing as well as can be expected.  You can follow Anna's updates here.
03.03.22 – $500 CAD sent to Shelter Ukraine. She has over 500 animals and has said food is hard to come by there, but they are actively searching (and prices are skyrocketing). She has been providing updates on her facebook page.
03.04.22  – $1,000 CAD sent to Aaron at Planting Peace to help fund the rental of the pet friendly accommodations for refugees.  Read more here.
03.05.22 – $1,000 CAD sent to ADA – their team is entering Ukraine from Poland to rescue pets left behind, vet and care for them.  More information on their work can be found here. 
03.06.22 – $2,000 USD sent to Breaking The Chains to support their continued work on the ground in Ukraine.
03.08.22 – $3,000 USD sent to Planting Peace to help purchase pet food and crates for pets of refugees in Poland.
03.13.22 – $500 CAD send to Shelter Friend to help with incidentals for the dogs and cats in her care in Ukraine.
03.13.22 – $3,000 CAD sent to Breaking The Chains to support their continued work on the ground in Ukraine.  This includes the provision and distribution of medicine, food and other supplies animals, as well as transport of animals out of the war zones.
03.13.22 – $1,000 CAD sent to Andrea Cisternino of International Protection League to help with medicine and supplies.  His friend Anna is providing updates here. 
03.16.22 – $1,500 USD sent to Planting Peace to help purchase pet food and supplies for refugees living in the train station at a Poland/Ukraine border.
03.20.22 – $2,000 USD sent to Planting Peace for the donation matching campaign.  This way we double the donation and Aaron will still be able to donate to Breaking The Chains and other organizations on our behalf as needed.
03.20.22 – $1,200 USD to Planting Peace. This was a $1,500 CAD donation from a private donor, sent to Planting Peace because they have a doubling donor – meaning their donor will match our donation! As this donation was to be split between, Planting Peace, Breaking the Chains, and Shelter Friend, I put Aaron of Planting Peace in touch with Tom at Breaking The Chains (who is working on the ground in Ukraine with Shelter Friend) and they have now been in discussions about even more work and collaboration that can be done together. Collaboration is the name of the game for AFB!
04.01.22 – $1,500 USD to Planting Peace. We sent this last minute last night as we had the opportunity to help fund the rescue, transport, vaccinations, and vetting for some dogs out of Ukraine and into a rescue in Sweden. As with everything with this war, it's all very last minute and we will have more details and hopefully photos later this weekend. I'm honored to have met Aaron, and have the opportunity to work with him, and am so grateful for the work he is doing on the ground. Stay tuned for more updates!
04.11.22 – $541.91 to purchase food and supplies for Berta – a dog of Ukraine who came with her refugee family to Vancouver.
04.22.22 – $5,000 CAD to Tom and Breaking The Chains to support the ongoing rescue and care for pets and animals left behind.
05.22.22 – $10,000 USD to Aaron and Planting Peace to support the setup of a rescue/shelter in Poland, the purchase of a transportation vehicle, and the continued supply of pet food to pets of refugees coming into Poland.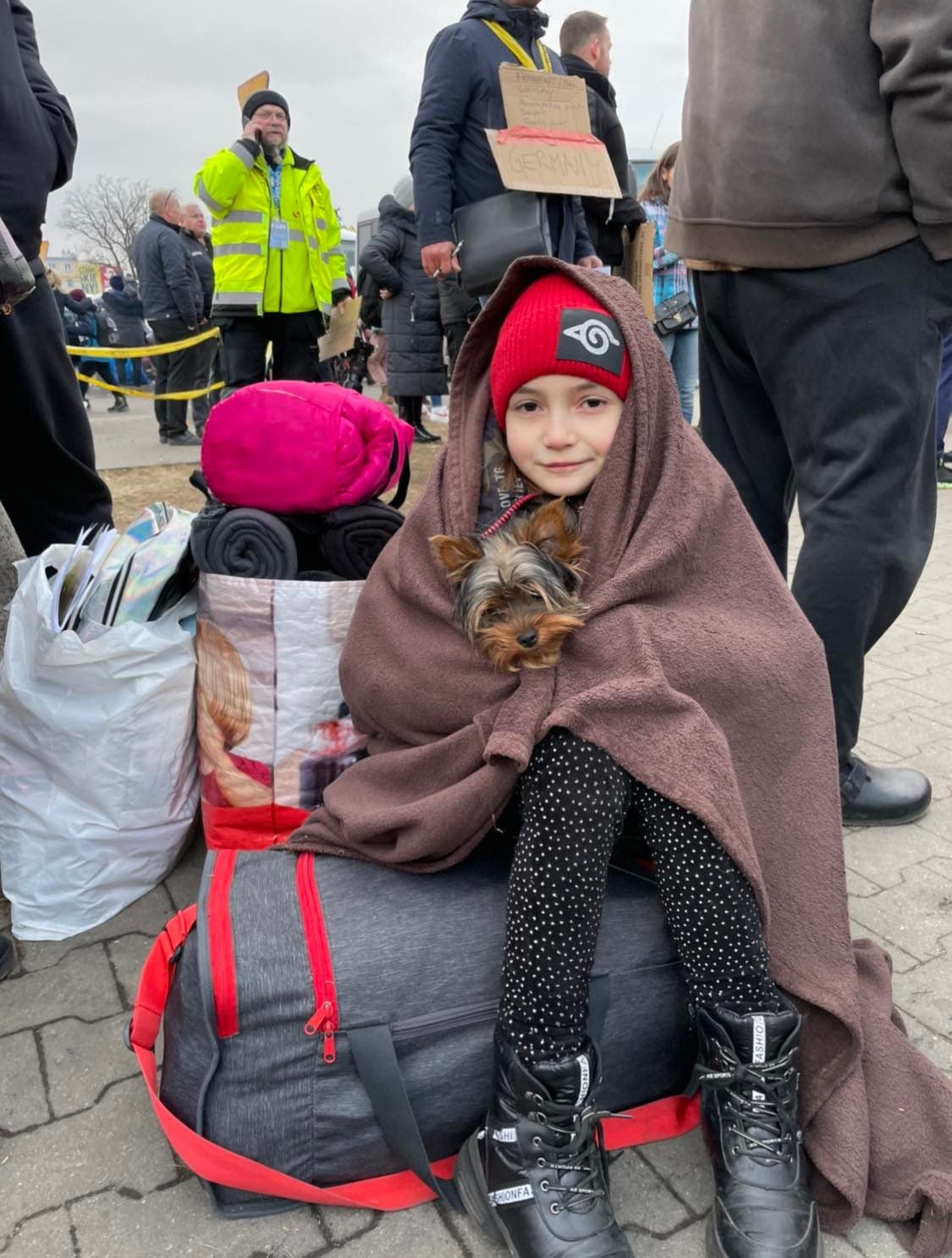 If you have any questions or would like further information, please do not hesitate to reach out to our Founder, Nicole Frey at nicole@animalfoodbank.org.