The Story of Our Mascot KAM

The power of one thought, one idea, one meeting, one encounter, one action, one gesture can change the world. 
KAM is named after Kendra Alexis McLeod
Kendra was born on February 8, 2005. This amazing young woman had so much love for all creatures on this planet, especially for her dogs, Lewie and Lexi.
She was wise beyond her young years and taught all of us how to be unselfish and compassionate. She had an infectious smile that brighten any room.
One of her favorite things to do was watching the local Powell River hockey team play.  She knew the hometown mascot Rocco would be there, and he always made her smile.
Sadly, in 2017 Kendra was diagnosed with Acute Myeloid Leukemia and GVHD of the lungs and passed away on November 25, 2019. She is so greatly missed.
We hope we can help keep her light and memory alive and honor her and her love of animals, by naming our mascot after her.
Thank you to Kendra's amazing family for sharing her story and allowing us the honor of naming our mascot after her.
With so much love and compassion, we are forever grateful.


100% of donations go to support pets in need. Our purchasing dollar tends to go further as our partner pet stores offer us discounts. Donating to us ensures we can purchase pet food as needed, accommodate allergies and special requests such as urinary health foods, and ensure no pet goes hungry.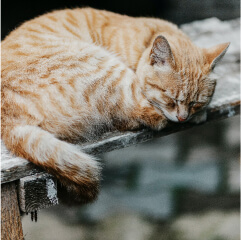 We partner with pet stores and businesses in the communities we serve to provide convenient drop off locations for donations of pet food and supplies. If you have food you can no longer use, please donate it to us, or purchase some pet food and donate into our bin. We just ask that food be in it's original packaging.
Buying us a gift card is a great way to support us, and to support your favorite local pet store! Our participating partner pet stores will put the gift card aside for us so that we can purchase pet food or supplies for pets in need and prevent their hunger and surrender. It's a great way to support local.
The purpose of living is to help others.